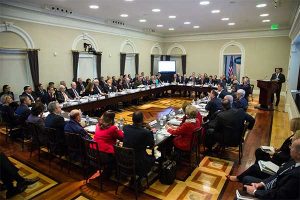 The housing market was at the forefront of the presidential election eight years ago but barely received any attention in this campaign. Now that Donald Trump is in office, what lies ahead for home buyers and sellers?
Trump provided few hints of his thinking while running for office, leaving most industry observers to guess at what his plans will be.
"He really hasn't said much about the housing market," said Laurie Goodman, co-director of the Urban Institute's Housing Finance Policy Center. "It's just so unclear what type of Republican he is" when it comes to housing.
Jonathan Smoke, chief economist at Realtor.com, pointed to Trump's business background as an indicator of what could be store for the housing market.
"If you are rooting for the economy to improve, you would hope that his background as a business person, as a real estate developer, would pave the way for more growth, more development and that would be a net beneficial for real estate," Smoke said.
But Trump's lack of housing policy proposals leaves others anxious.
"The president-elect has basically made his campaign oriented around uncertainty," said Ralph McLaughlin, chief economist at Trulia. "He laid out a very uncertain policy landscape, and that uncertainty is going to have short-term effects that are more predictable than the long-term ones."
The biggest short-term effect was on the financial markets, which reacted poorly initially before quickly recovering. Volatility in the financial markets tends to cause investors to flee to safety, which lately has been mortgage-backed securities. That's helping keep mortgage rates low — great news for those looking to refinance.
"I'm more concerned about what happens to interest rates," Smoke said. "We appeared to be on a gradual but upward trajectory on interest rates. Is now the December rate hike off the table for the Federal Reserve? There are five weeks between now and when they meet with a lot of data to come out, most importantly the November employment report."
What effect a Trump victory has on the housing market may vary depending on where you live, McLaughlin says. Because home buyers in economically healthy blue states are more likely to be rattled by the election outcome and concerned about the future of the economy, they might put off making a large purchase such as a home, causing a drag on the market.
In contrast, home buyers in economically stagnant red states are more apt to be optimistic about a Trump administration's effect on their economic prospects, creating a surge in their confidence about the future and interest in making a big purchase such as a home.
"We think it is a perception-driven boost of confidence, rather than a fundamental economic one," McLaughlin said.
In the past, most changes in administrations have had little effect on the housing market.
"Historically there's not a lot you can say about a presidential election's real and clear impact on the housing market, even in Washington, D.C.," Smoke said.
Smoke analyzed five presidential elections that took place in the past 20 years and found that outside a three-mile radius of Capitol Hill they had no consistent impact on home sales or prices. Other factors such as economic boons and busts had a greater influence.
"Roughly six to nine months following the election, there were abnormally stronger sales [around Capitol Hill] relative to the prior year," Smoke said. "If Trump is true to his claim to bring in outsiders and build a government with more people who haven't been inside the Beltway, then you could believe that there are going to be more transactions than normal as those people seek to move in."
Terry Clower, director of George Mason University's Center for Regional Analysis, says Trump's policies will have more of an impact on the local housing market than who comes to work in his administration.
"I think, at least in the near term, the things he's talking about are going to enhance economic activity," Clower said. "Once the dust settles over the next couple months, there could be a beneficial impact" on the region's economy.
Trump has called for increased defense spending, which would give a boost to local defense contractors. He says he will spend money on infrastructure, a share of which could wash through Maryland and Virginia. Those moves would increase employment and wages, encouraging household formation.
Trump has also talked about rolling back government regulations. At a meeting of the National Association of Home Builders in August, Trump said that "there's no industry, other than probably the energy industry, that is more over-regulated than the housing industry." However, changing those regulations may be beyond his scope.
"He could try to use his power to ease it, but a lot of the problems are at the state and local levels," Goodman said.
Goodman said the two biggest issues the housing market faces are supply constraints and credit availability. A recent study by the Urban Institute found a significant gap between new housing creation and household formation, estimating more than 400,000 fewer homes are being built than are needed.
"He could conceivably try to use whatever tools the federal government has to increase the supply of housing," Goodman said. "That would be a really, really positive set of actions."
But Trump's stance on immigration could have a detrimental effect on housing supply.
"Immigration plays a big part in the labor force for construction," Smoke said. "It's one of the constraints we have in new construction."
Something to watch under Trump could be what happens to Fannie Mae and Freddie Mac. Reform efforts have stalled the past several years. But hedge-fund billionaire John Paulson, who is part of the president-elect's economic policy team, could push for action. Paulson bought shares of Fannie and Freddie in the hope of cashing in when they regained their independence. Since being placed under government control, the mortgage-backers have sent nearly all their profits to the U.S. Treasury, not investors.
"Paulson cares passionately about this, given his positions," Goodman said.
Trump made a lot of promises during the campaign. It is unclear how many of them he'll be able to keep. Until he and his advisers provide more clarity on his intentions, the housing sector, like everyone else, will have to take a wait-and-see approach.
"We are totally guessing," Goodman said. "It could be that housing is not on his list of things to do and you don't end up with much change over the status quo."